We discuss how:
– Johanna has been experiencing swellings and pain for 4 years
– She's been on Methotrexate, Sulfasalazine ,Prednisone and also Apremilast for about two years with tremendous side effects
– Within 2 years all other options failed and she started Enbrel, but it didn't bring any stable improvement
– In November 2017, just when she hit her all-time low, she found the Paddison Program
– Within 3 1/2 months her energy is back and she's pain-free and drug-free
– Here hair is grown back, after she lost about 40 percent of it due to Methotrexate
– Bikram Yoga has also turned out to be a great energy source
– She found great inspiration and support in the Program's material and community
Clint: Today you're going to hear from another great guest who has done the Paddison Program approximately now for 3 1/2 months, and she has a fabulous story to tell. She's got experience with Methotrexate, and Sulfasalazine, and Enbrel, and the ups and downs, and complications of these medications. And now has a pain free, drug free situation that we're looking forward to hearing about. So Johanna thank you very much for sharing with us today.
Johanna: Hello. On and off for about 4 years I've been experiencing weird terrible swellings and a tremendous amount of pain. In November of 2017 I hit my all-time low, I had no energy, I could sleep, and sleep, and sleep. I had been on a variety of medications up until that point. Then I was introduced to Enbrel, and it did some pain reduction, but I was so tired, it wasn't a quality of life anymore. I went on Facebook and joined a support group, and it was just one sad story after another how people failed Enbrel, (inaudible), Humira. And I looked at my future and I thought I'd get a go in this horrifying endless circle, and I have nothing but a wheelchair to look forward to, and my world got really dark and depressing. Then I got sick with Bronchitis, because of all the immune suppressants and I had some time at home to search the web and I found your program, and I started the program. And it was within a couple of weeks I started to feel less pain. And then it just got better and better, I stayed on the medication, so I was still very tired. And then at some point I just decided you know what this is great, I also have been doing hot yoga. But the energy was there so I stopped the medication and here I am, and life is back. I am amazed, tears of joy, it's just amazing.
Clint: So give us some examples of the before and after. Like how would you wake up before compared to how you're waking up these days.
Johanna: Well I wouldn't really wake up, the alarm would wake me up and I would drag myself out of bed, and I'd limp around. I had no enthusiasm for work, I had no enthusiasm for anything and it was really just an existence, it was miserable. And I would ask my rheumatologist, is there anything you can give me Vitamin B 12 injections? Is there something else that I can take? And he said, no this is it. And physiotherapist alike and such they all said, Oh yeah we have patients on Enbrel they're usually really really tired. So you know waking up was just awful. And now I wake up on my own without the alarm. I don't know, I don't know, what can I say, I'm thrilled.
Clint: And it's one of these situations where you've gone down the medication angle. And you've explored 3 of the very common drugs which is the methotrexate, a biologic option which is by the way just seemingly becoming more and more frequently prescribed to people with rheumatoid or psoriatic. Earlier, it seems that I'm hearing more and more from clients and members of our support group. As a member you witnessed, is that people go to their doctor and it won't be long these days before discussion around a biologic drug comes into the fray. And when I was diagnosed 11 years ago, the biologic drugs were considered to be a last resort, and something that well if you've failed everything else then that's the direction that we need to look at for you. Whereas now it seems like, how can we kind of fast track you onto these things and there's definitely been a shift that I've observed. So you having being diagnosed more recently than me. Have you witnessed this yourself? Like how quickly did it happen before doctors were talking about Enbrel or Humira or something similar?
Johanna: Within 2 years, I had slowly fail everything. I had also tried Apremilast which is well I don't know what that is, a generic name. But it is for psoriasis primarily, which I have never had just the arthritis portion of it. And even prior any medications I had no energy, the arthritis just seemed to suck the life out of you. I used to drive around at work with ice packs in my steel toe shoes so that I would ease the pain in my ankles. And then when I had to go one site I would take the ice packs out and start walking around. I couldn't really climb ladders, Oh it was awful.
Clint: So within a couple of years, doctors were talking about enbrel. What were the drugs that you're on prior to that, and how were they in terms of their effectiveness and the side effects that you got from those?
Johanna: I was on oral methotrexate, and I lost 30 to 40 percent of my hair, it's now grown back. I have all these little growth hairs.
Clint: It looks beautiful now.
Johanna: Thanks! I was on prednisone, and prednisone bumped me up from I think about 179 to 197 pounds. Now I weigh 165 pounds.
Clint: That's an interesting point about prednisone that I never kind of dwell on that does play a role which is the weight gain. And the reason that I never talk much about it is because I think that even on prednisone if you're following our program you still manage your weight quite effectively. So if you're eating a Western style, high fat animal based sort of diet with the prednisone then yes the weight. Did you have the puffy face and that sort of appearance happening as well?
Johanna: I wasn't on it enough, but it sure made me hungry. I was power eating.
Clint: Hungry for everything right?
Johanna: Hungry for sweets, I would eat meat and then I would just be craving sweets. I couldn't get out of the kitchen and then in order to stop eating sweets I would eat cookies and things that were less sweet to try and stop the craving.
Clint: Alright so, how did you get off that? Because we talk a lot about getting off that inside our support group. How did you get off it? Cause that was before you and I started to communicate.
Johanna: How did I get off the prednisone? I just stopped taking it because I looked at my rheumatologist and I said, I cannot be on this drug forever. And he said well you can, it's just going to be a short forever. You're not going to live as long as other people.
Clint: What? That was how he answered that question, that comment?
Johanna: Something to that effect yes. And so I said I'd like to stop and that's when he started considering other medications. So that's when we went off the oral methotrexate and we went on to the Apremilast. And then the Apremilast didn't work for more than about nine months, and then I went on to the injectable methotrexate. And then it was the Enbrel, it was an Enbrel, something similar to Enbrel we call it Brenzys here. And I was on that for a month.
Clint: So it would seem that you would be categorized by your rheumatologist as someone who does not respond well to medical treatment. Is that the feedback you've been receiving from your rheumatologist? That your body doesn't do well on the medications.
Johanna: Not really no. His desire was to have me live pain free. And so Brenzys aka Enbrel, was what he wanted to do just to make me comfortable because I wasn't enjoying prednisone, and the hair loss, and the nausea that was associated with the other medications that I was taking.
Clint: Right, so a lot of this sort of medication ramping was due to your complaints or your dissatisfaction with the earlier drugs in the sequence?
Johanna: Correct.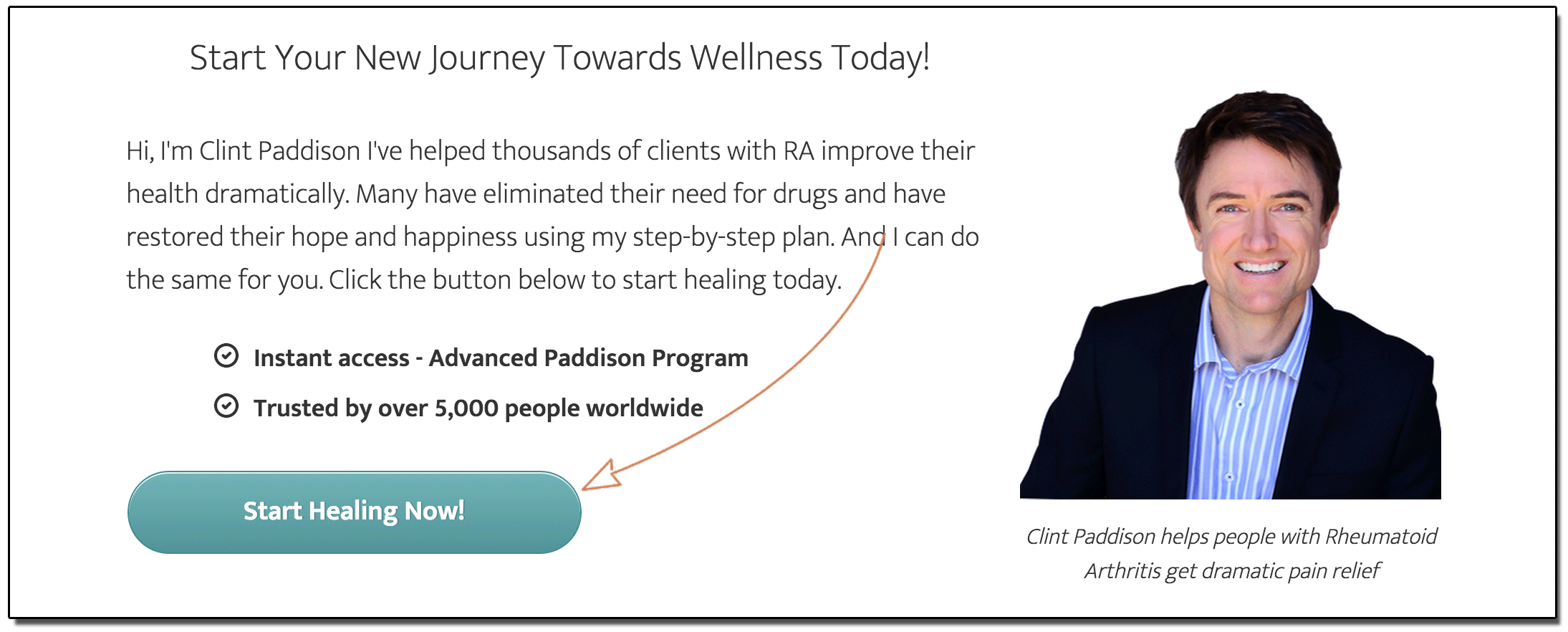 Clint: All right. Okay.
Johanna: I did speak with a therapist because I was in such pain that I needed to somehow manage my stress. And this therapist said to me wouldn't it be wonderful if you could one day get off drugs and do this through diet alone. And I looked at her like she was an alien, and I said no this is permanent. And I thought, wow I don't know if I'm going to see her again she's a wacko.
Clint: Wow that's crazy, you said that to her.
Johanna: But this is how ingrained it is to just be on medication. If you get sick you take a drug, you don't think about controlling things through diet. I talked to a lot of people suffering from arthritis and they go, oh no I need to be on these drugs forever now, and you go well okay then.
Clint: Yeah that's a closed book attitude, there's no going there. So I'm interested in how you manage then to hear that from one of the medical person that you mentioned, and then thinking that she's a wacko. And first of all, whether or not you've seen her again and told her now how you are. And just tell us about then how you started to make the transition across from that attitude and that belief system, to sort of adopting my whole world.
Johanna: I was so sick, I was at the bottom, I couldn't go any further down except being in a wheelchair. And I was getting points in life where I was debating, do I really want to carry, like it got that far down. I wasn't actually suicidal, but I was sort of going this can't keep going on. So I just somehow found you on the internet, and your stories about the cherries were something we could relate to because I had gotten sick and I wasn't eating for about five days. And I realized oh my pains really gone down, so that's what sold me. And so I carried on, I have seen the therapist since then because the trauma of having been that sick is still something that haunts me and I have to deal with it. Because how can you get so sick.
Clint: And by that you mean that you still are psychologically affected by how dark the place was that you got to, and how bad the pain was that it's still a very tender memory.
Johanna: Yes.
Clint: And that may never go away completely. Almost like a really horrible traumatic experience as a child that I fortunately managed to avoid. I didn't have but I know that people have traumatic experiences when their children often carry them for life, and although they dissipate they still you know play a little bit of a role. So I know that when I think about the dark days and when you mentioned previously about not quite feeling suicidal. But wondering where is this going, and how can I live like this? Yeah. That feels very familiar territory to me too, because whilst these days life is different. There was a very long period for me where life was absolutely awful, like just horrific. And it was just agonizing month after month, which turned into year after year. And the methotrexate for me only shaved about 50 percent of the pain off that got ramped from 10 mg to 25 mg, and then I was still in agony. And so many of my dietary changes were on 25 mg of methotrexate and weren't effective because I was just stabbing in the dark. Like 9 years ago trying to work out what to eat. And the littlest things that we know and appreciate like having flaxseed in smoothies or avocados in smoothies or olive oil on salads, I discovered myself. And it was over a long period of time that these things presented themselves as problems that I thought were okay. And what seemed like an eternity, which was over several years of agonizing levels of pain for me and then, more moderate levels of pain, and then lower levels of pain, and then really small levels of pain.
Clint: But the pain was immense for a very long period of time. So yeah it's enough to make me never ever want to consider eating the way that I used to ever again. Such and such was the stick that I was hit with the deterrent to his is so massive that people say to me, don't you want to one day have like a steak or what about just have a piece of birthday cake or something. And like I might have a nibble of a vegan birthday cake for my children, but even that I don't sit and have a piece of cake and it's not paranoia, it's being realistic. This condition can be reignited, and we don't want to do that. It's not like I'm immune from the immune process. It's like we have decisions each day, micro decisions throughout every day as to how we're going to interact with our environment. And for me that's going to be lots of exercise, the right foods the right attitude, and that should get always hopefully the right result.
Clint: So I appreciate that dark place, and I'm sure a lot of people listening or watching this can appreciate that some days it just gets you so low that you do question a lot of things so it's good that we're able to openly discuss that.
Johanna: Yeah. I find that diet or the meal plan I am currently on. It mitigates the cravings, the sugar, the sweets. I still have to be very careful with fruit. I don't eat a lot of fruit, I'm careful with avocados. I don' teat flaxseeds, but I just don't crave that stuff. And meat, I don't crave it at all, in fact the smell is offensive. In fact, even when I was eating meat the smell was offensive, because I regulate abattoirs so I have to go through the abattoir.
Clint: What? That's what you do. Let me share a story. Sorry, like this is fascinating. So I grew up on a on a cattle farm. Now we ate a lot of the pets or animals, I call them pets when I was little. But our animals on the farm and that's normal all the other farmers are in the area. Everyone we knew you didn't have to buy meat from the butcher because you had excess supply on the farm. So I'm growing up I was became desensitized to the concept and the procedure of slaughtering animals. And my sister and I used to play games where when the meat was hanging up we would dare each other to touch the various organs that were being eviscerated from the carcass. And you know, it was then a whole new level for me to then attend an abattoir. Because I as I said had become familiar with it. But I remember the smell as we approached the abattoir from a round about 500 meters away. I started to smell inside the vehicle that we were approaching, and my dad and I know Dad's says, oh that stinks. And he's like oh yeah that's the abattoir smell right.
Clint: Anyway it was so repulsive that I couldn't go in the building, and at that age as a teenager where your father says come on be a man, come inside, you can handle this. And I couldn't go in, and I was no kind of weak attitude or weak. I just found the smell just so horrible something between, and a poor attempt at sanitization with blood and fear all mixed together in the most intense cocktail of horror. So how do you do that? How do you go through these abattoirs?
Johanna: Yeah I do, but I know that I can go home and I can eat a salad. And I know I don't I have to put that stuff in my meals again. And I actually seen a naturopath, and she said you're a fast oxidizer. You need animal protein in every meal.
Johanna: I was so inflamed, ah yeah it was awful. My ankles looked like they had been sprained, and I would see physiotherapists and they said how do you sprain your ankles so frequently and to such an extent. And at one point I asked my medical doctor I said, can you just cut my foot off? Just cut the thing open or cut it off, it hurts so much. And so that's a really good incentive to never eat sweets. But I think because my gut has healed, and the bacteria has changed. They no longer crave that sweet stuff.
Clint: Exactly. That's exactly right. And shame on that naturopath. If there is a natural path listening to this well you know a naturopath if you're listening to this who recommends meat products as some benefit, for some ailment that you have. Never practice again or never see that naturopath again. I mean there is no health condition other than you're about to die because you haven't eaten in five days that calls upon animal products to fix it. There is none, not one, so shame on that naturopath. Yeah sorry go ahead.
Johanna: I would also say even rheumatologists don't really know how to treat rheumatoid and psoriatic arthritis, because they don't provide the option to cleanse your body with a proper diet. But I would argue that the first rheumatologist who starts promoting diet and not drugs is going to be taken out by a big pharma. We had a couple in Toronto, they were pharmacists, they had generic brands, and they were quietly murdered in their home and that was about four months ago.
Clint: What?
Johanna: So I would guess that if rheumatologist started saying, oh don't take Enbrel, they would just quietly die in their sleep and their family would disappear. Big Pharma is huge, it's huge. And so of course these drugs keep coming out and with everyone one they get more expensive. My Brenzys costs 450 dollars per injection. I had to take four injections a month.
Clint: It's unaffordable. I mean, that's just ridiculous levels of cost 2000 bucks a month just so that you can have the drug that you'll be dependent on for the rest of your life. That has potential side effects, that you need to watch your levels of infections, and the fatigue levels that you mentioned earlier. So I totally agree with the size of the big pharma and the potential retaliation of too much loss of profits if they were to observe that. And people have said to me in the past, do you watch your back and so forth? Because of the sort of work that I do. But look I'm not anti-drugs. I am maximum health, and you are the perfect example of this. We don't need to debate about whether or not it's drugs or diet. And let's not even say diet, it's not just diet. It's also exercise, and its mindset, stress reduction, at supplementation, so there's a whole bunch of things that the natural side of things can offer. It's the full picture and medication's is just one of the tools in our toolkit.
Clint: Now if we do all the other things in the toolkit use all the other tools, and then our inflammation levels low enough, then we don't need the drugs. But if we do all the things in the tool kit that we have, and those tools don't enable us to have enough pain reduction, then sure let's look at a medication starting with the most the lightest and the most you know nonintrusive medication with the least side effects. And that's how I would approach this if I was a rheumatologist, I'd say well get all your stuff that you can influence right all the natural stuff and then come back to me if we still need to just you know handle a little bit of inflammation that's left with a medication. And that's an effective strategy. And with that strategy you can then heal your gut, whilst you're on one of the drugs that doesn't have a counterproductive effect on the gut. And then later as the blood markers are consistently low, and your symptoms are consistently low, then you can taper down off the medications until symptoms start to show a little bit. And then you just don't lower anymore at that point.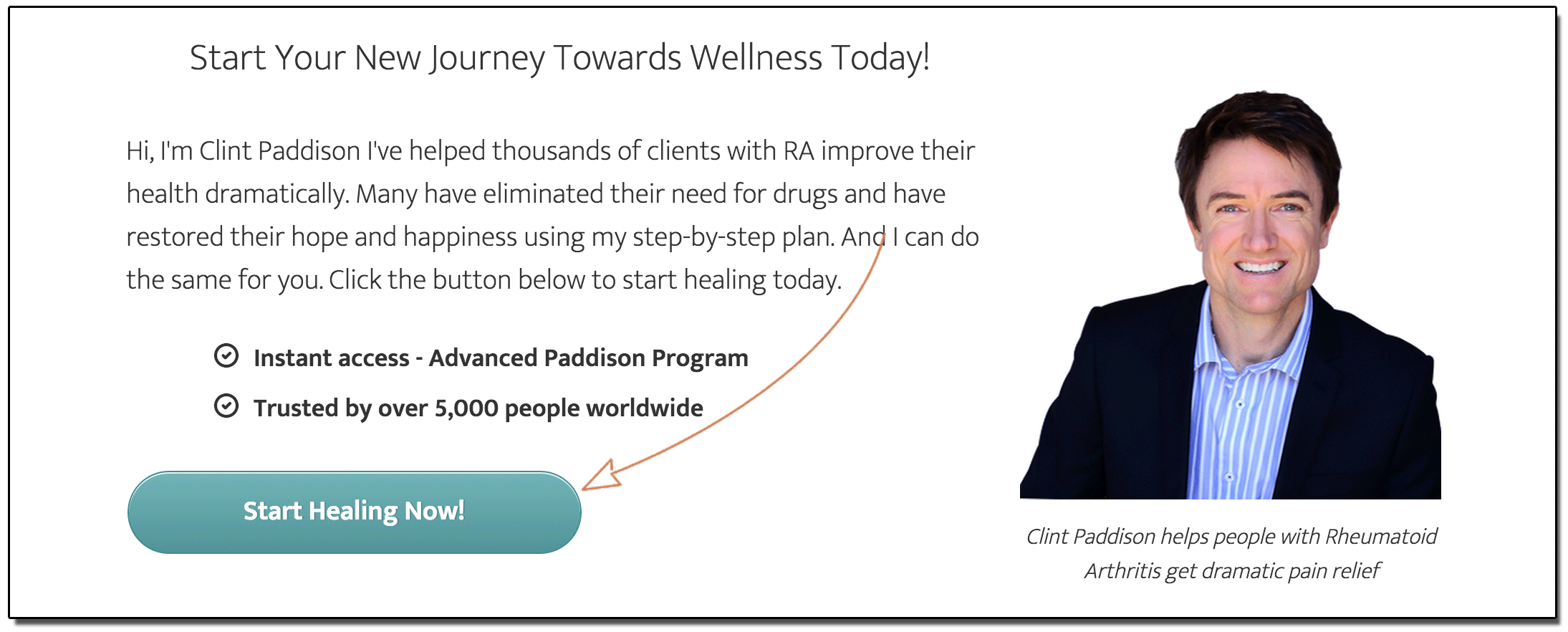 Clint: So for me the formula is very clear and simple and I've sort of come to this view about a year and half ago or something like that and I've enjoyed that perspective and I haven't seen a hole in it yet. And that's the perspective, and that's the approach that I'm putting in my book. Which I hope will end up on rheumatology shelves around the world, and that they are able to recommend it to patients. And at first I think what's going to happen they be given it by their patients, and then they can read and understand. The book's going to be written or is being written in a way that isn't judge mental about the medical system or about the patient approach. It's just, here's the situation, and this is the way that I think we can improve upon things without anyone getting there and getting upset or being slighted. Let's just take a look at what we should do rather than how it's all broken.
Clint: So now I want to ask you a question, you've been a wonderful member of our support group and you've inspired other people with your updates and so on. And one thing that you were struggling with that I'd like to talk about, is you've got a foot problem and for a while there we had to make a decision as to whether or not the foot was related to the inflammation. Now let's talk about how we've got to be careful when we're looking at our overall symptoms, not to misinterpret what some of our symptoms are. So can you talk about that please?
Johanna: Yes. I had both feet where I actually saw at one point, and as the psoriatic arthritis started and progressed I assumed that they were part and parcel of it. And so when I first saw the rheumatologist he injected steroids into the both feet, and the pain went away, and then the being returned. And then even on Enbrel, the so-called wonder drug, I remember saying to my rheumatologist repeatedly, but my foot still hurts, it hurts quite a lot. Because there were quite a few appointments with him while I was on the Enbrel. And he said well it's probably gone now, the joint is all swollen and it's probably that's it for that joint and it seized up. And I thought, okay well let's have a moment of silence for this poor toe and I carried on.
Johanna: And what I ended up doing was I saw a pediatrist, and he said you have passed kava, which means I have extremely high arches and the heel of my foot is lower than my toes. And so I have to arch my feet more than regular people, and so I end up getting hammered toes. And so they're all kind of burned up like that, and they scrape on the top of my shoe and that's creating the pain. So now I have the new orthotics, and I walk in free. The foot is still a little bit sore, the swelling on the left foot which the doctor said is permanent damage is gone. And it used to almost be sort of red in a little bit purple in color. So I believe the arthritis was in there but it's now gone. It's just a regular foot, and you can see the structures, the tendons, and whatnot, and you couldn't before. So the arthritis is gone, unfortunately the condition called pass kava is still there, and it needs to be supported with orthotics. But it's manageable, I can play a round of golf, and it's also helping me walk better so that various hip flexors and so as muscles are noticed so either. Which can also easily be interpreted as oh that's your psoriatic arthritis. So it seemed to me like every little ache and pain was, oh well that's your psoriatic arthritis. Well just keep asking questions, just take it a little further. And if you're on Enbrel or whatever, and it's still hurting go see another specialist. I have seen three other pediatrists, and one had said it's Morton's neuroma. Another one had said it was complex regional pain syndrome which is another hideous thing. So you know severe keep going for it.
Clint: Thank you. Very good points, and the general message here is that we all have these unique additional pains that are going on in our body that may not be related to the disease that we're treating with the medications or that we're thinking is the arthritis and the misinterpretation has massive consequences. So you and I were liaising on this, and we were talking about should I stay on this medication or not. And I said we've got to find out about this foot, because it was the only non-responder. Everything else was dropping, your inflammation levels after going on the program. We see all of this stuff dropping away, everything's feeling better. But your feet still hurt, and that's why we have to say well let's consider that it could be something else. And as it turns out it was something else, in addition to the arthritis. But the arthritis went down, the inflammation went down, and then you're left with the structural issue which you're able to resolve. And that could have been a decision if you had not investigated further on that foot situation and found the exact cause, we wouldn't be having this discussion today. Because the interpretation may have been that it's the psoriatic arthritis or RA, and that the medications required and so on. And who knows how many years that would have gone on.
Clint: So it's an important distinction. When I had a cortisone injection in my knee, and I had my swelling removed from that injection. That was because it was the only non-responder in my body at the time. Now for whatever reason my baker's cyst at the back of the knee and the swelling at the top of the kneecap, it just seemed to be in a court loop, it just never seemed to resolve itself. The one cortisone injection cleared that I never had to have another one again, and that was it for the knee. I just been rehabbing it ever since. But the point of this is, that as soon as the swelling was removed from the knee I discovered, that a lot of the pain in that knee was because of the very weak, and brittle, and pathetic connective tissue. And so the whole time I assumed that it was inflammation, a lot of it was because of a weak connective tissue. And so then I rebuild that weak connective tissue with Bikram yoga, and endless gym sessions very carefully.
Clint: But yeah I had a misinterpretation of what was going on in that knee as well, and I see it a lot with people with shoulder pain. They will say my shoulders have arthritis inflammation, synovitis in the shoulders. And I say, have you had anyone look at your back muscles and the way that your spine is aligned and so on. And so often we see that shoulder problems are related to the shoulder blade are, a and the tissues all around the shoulder blade which just refer pain into the shoulder. And that one can be a miraculous fix in no time with just a good chiropractor, some good massage therapy. It's remarkable, the shoulder one. So your foot is another example. So thank you. I want people to really understand that not every pain we have necessarily is attributed to the auto immune condition.
Johanna: Yeah. And people like me, who are I've been heavy into sports I asked the foot doctor I said, why now? And he goes, sorry you're probably your age. I'm 56 this year, the foot's done me well. I've abused, I rammed it into you know pointy, nice little tiny shoes for work. I've tourqed on ski boots so I could you know black diamond runs. And so now the foot is going, give me a break, I need a break now. The nice thing it does for me is when I feel the pain, and I remember the pain, I go I'm on the right path. I will never go back to the meat, and so it's something that keeps me on track.
Clint: Yes absolutely. Pain is a great motivator. So let's talk about, as we sort of move towards a conclusion. And before we do, I want to talk with you about maybe some tips or some encouragement, some insights that you've garnered over this last 4 or 5 months. And is there some parting insights that you'd like to share for others who haven't yet got the results you have or are maybe thinking about trying this?
Johanna: Well the first thing I had to do was unlearn the message that the big pharma gives you, drugs, drugs, drugs. You have a problem, drugs. Unlearn western medicine, and what do you have to lose? What do you have to lose by trying an alternative method? And that was for me, I had nothing left to lose. And so I went, you know this is the right price I'm not going to lose my shirt on this program. So try it, and I stuck to it like glue. And every time I had more pain than I thought I should have I just went right back to basics, and that really helped. So and to continue on, again just go back to the basics. If you've been feeling really good, and you've added something, and then you've added something else, and maybe you've over added, go back to the basics it's on your fact sheet. All the information is there.
Clint: Yeah it is. And that's exactly what I did too. The number of times I had to get back to basics, back to baseline, as you know endless, endless times. You know I started on like what seemed like an eternity just on basics, and then I added foods, and then oh something's not right, back to basics. And then I expanded a bit more, something's not right, back to basics. And that process just went on for a very long time. And what you'll find is that your baseline foods can evolve too. So a reset for you might not be back to the true baseline foods in our program. But it might be back to those plus some basmati rice, and potatoes or it might be back to that plus a couple of other things that you're absolutely sure about. So your baseline can be more advanced, everything shifts forward.
Clint: So I used to reset for a long period of time, back to potato and curry. Which would be basmati rice, potatoes with turmeric based kind of curry powder with onions. So it was a very hearty meal that I just really enjoyed, and that I found at a later stage gave me exactly the same level of pain reversal as what the quinoa-buckwheat, with seaweed or whatever used to. So you know things change all the time and you become more and more desensitized.
Johanna: You were also a huge inspiration for this program. And I remember reading something or watching one of your DVD's where you said you ate bags of spinach at your wedding, because there was no other food available. and you ate spinach for like weeks, and I went if this guy can eat spinach, and green leafy vegetables for a week I can do this. So that was very inspirational to me.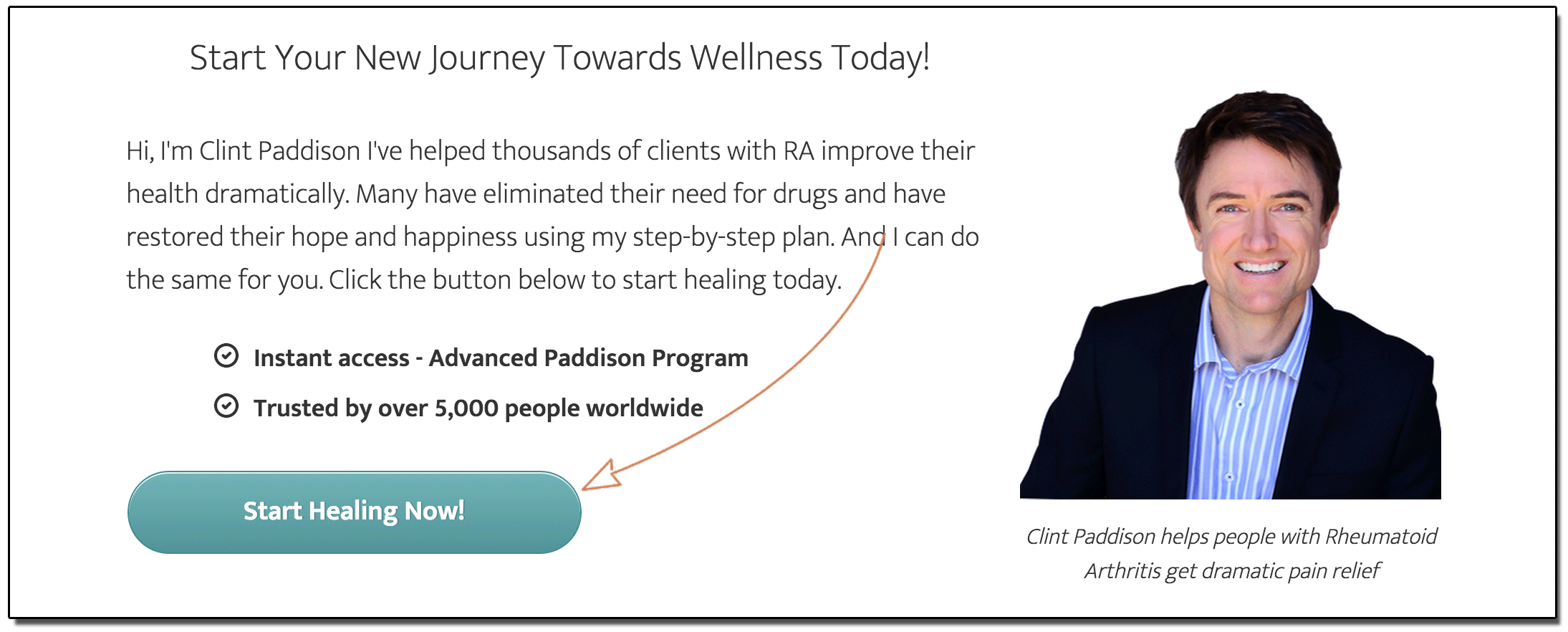 Clint: Yeah. You know for me there was nothing more important than I would have eaten dog food, I would have done whatever it took, and did do it every take. Because I can't stand bikram yoga, like I just cannot stand it. But I went every day, almost every day for a year. A few things or I just had to not be able to go for work reasons or something. And you know I would just love getting into the car, and driving there, and every step up to the class I'm just swearing under my breath. As I'm limping in, and hating every posture that people who have normal bodies find challenging. And me in my agony, and lack of energy with my fatigue, and methotrexate, and then get back in the car and drive it just to get enough pain relief to get me through to get there again the next day. I mean miserable. And so when I think back of what it sucked the most it was that feeling of the necessity of having to do that heavy exercise with very little energy, more so actually than the baby spinach. I actually really like baby spinach, and I can still just sit there, and munch on a bag of that stuff. I don't know why my body just seems to be in synergy with the taste, and the effect of baby spinach. I just really like it so I'm glad that that was beneficial and gave you a little bit of a, if he can do that then I can do this sort of thing.
Johanna: The hot yoga actually I am on board with you, it's so hot. I don't like it either, but I found I got such energy from it. And I really enjoy going, because it made me feel like a powerhouse. And so that is something that really kicked up my energy source anybody is out there going oh my god I don't want to go. You will get a lot of energy. I actually stopped going because I was having difficulty sleeping.
Clint: Bikram says yoga is the gas station. He says that's where we come, and we get our energy, and I could never really understand that. In more recent times when I've been I've felt more energized from class. Still sleep like a log at night but have felt that what I think he is trying to refer to. Yeah that's awesome.
Johanna: Yeah. I'll probably be going to bikram for the rest of my life. But just not as frequently as I have been.
Clint: That's exactly what I do. I'll have days when my knee doesn't feel right. You know my body just not as happy as it normally is, and so I'll go and do a bikram yoga class. And it feels for me like a reset, like the physical equivalent of doing like a baseline of the foods.
Johanna: Exactly.
Clint: Yeah. So this is the beauty of this right? This is where you feel that beautiful moment. You know now the tools, we have the right foods to fall back on when we need to get the inflammation down, and we have the right exercise to fall back on when we want to get the inflammation down. And we therefore have these two beautiful safety net as we walk the tight rope through life of having a very delicate auto immune system. We're walking the tight rope, and if we feel out of balanc,e and we begin to fall, we fall into a net. And then we can get back up onto the tight rope, and resume our very balancing walks through life with a delicate auto immune situation. And so we've got our two nets, and they give us a great feeling of comfort and security knowing that they're there.
Clint: Awesome. All right well, do you think there's anything we've missed? Is there anything that you feel that we should cover before we wrap up?
Johanna: I just remembered a very severe moment back in November. I had fluid drained from my knees, and I was on the methotrexate and the sulfasalazine. And I had gone cycling for a week, it was Bike to Work Week and the following week about Tuesday my knees started to seize up and I made an emergency appointment. And he drained this awful fluid from my knee into a urine container, and filled each urine container half way with fluid from knees. Then he inject the steroids in the knee, and he said, no knee should have this much fluid in it. And so you should have seen my knees, well looked a lot like yours. And now, nothing even close, nothing even close to that. I did find some of the ligaments but probably really stretched, so I'm going to do a bunch strength training exercises to tighten it up.
Clint: And these kinds of maintenance level responsibilities are going to remain. So you'll find that this is a little delicate then something needs a tweak there, and you're always going to have this sideline job for the rest of your life. Keeping everything under control and getting the knees right is a good investment because we know how important the knees are. Bikram says you can mess with the gods, but you can't mess with your knees. There's no room to play, we got to get them perfect so yes do that. And inside our support forum you'll find that video on how to reverse knee problems and so go through and make all the notes about that and then you can go away and do those. The foundation of that video is about strengthening and stretching. So we've got those two responsibilities we use to strengthen all of the connective tissues, and we have to then stretch them too so that we continue to have range of motion. So with those two things then we have good quality joints.
Clint: So thank you so much for sharing your story today. I appreciate it, and I also appreciate you being part of our support group. Where we exchange ideas, and we learn from each other And I wanted to bring you on here and share your experience with a great audience so that more people can can learn and be inspired. So thank you very much.
Johanna: Thank you very much for creating a program. Life changing, thank you.