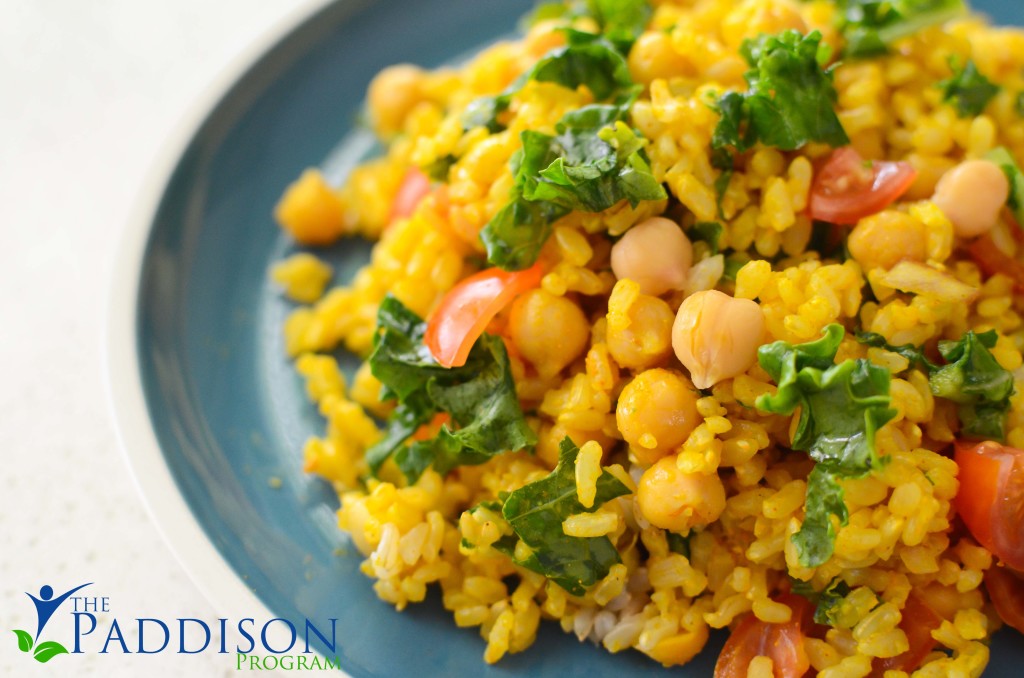 Anti Inflammatory Summer Salad
This, anti inflammatory summer salad, Brown Rice and Turmeric Salad is a nourishing, energy-giving and tasty combination. It is packed full of iron, fibre, protein, calcium, manganese, antioxidants, and anti-inflammatory properties.
There are numerous health benefits of turmeric included within the recipe. Research has found that turmeric has antibacterial, anticancer, anti-inflammatory and antioxidant properties [1].
You can make a large bowl and have it in the refrigerator nice and cool ready to eat for a quick and healthy snack or meal!
The salad is an excellent choice for those who regularly go out hiking, on picnics or travelling.
Suzanne has also found that preparing and taking salads to restaurants and cafes is a great way to socialise while still avoiding cooking oils often used in restaurants.
Preparing the Brown Rice and Turmeric Salad
Ingredients
1 1/2 cups brown rice

Kale (1 cup), chopped

1 cup chickpeas, cooked

1 cup cherry tomatoes, diced

1/4 red onion, minced
Turmeric Dressing
5 tbsp apple cider vinegar

2 tbsp Dijon mustard

1/4 cup water

2 tsp ground turmeric

Sea Salt to taste
Directions
Step 1
Rinse the dried chickpeas and cover them with water in a large bowl. Allow them to soak overnight for approximately 12 hours.
Step 2
The next day, rinse the chickpeas and cook for the advised time. Then, allow the chickpeas to cool and set them aside to add to the salad.
Step 3
Rinse and cook the brown rice. A rice cooker is a great tool as it helps to keep it nice and easy.
Step 4
Wash the kale and strip away the kale leaves from the stem. Chop and place the leaves in a small bowl. Sprinkle with a little sea salt and squeeze together with your hands. Allow them to sit for approximately 10 minutes.
Step 5
Wish and dice the tomatoes and red onion.
Step 6
Add all the salad ingredients together and gently toss.
Step 7
Whisk all Turmeric Dressing ingredients together and drizzle over the salad. Stir until the salad is completely coated with the dressing.
Step 8
Refrigerate and serve chilled.
[1] Hay E, Lucariello A, Contieri M, Esposito T, De Luca A, Guerra G, Perna A. Therapeutic effects of turmeric in several diseases: An overview. Chem Biol Interact. 2019 Sep 1;310:108729. doi: 10.1016/j.cbi.2019.108729. Epub 2019 Jun 27. PMID: 31255636.