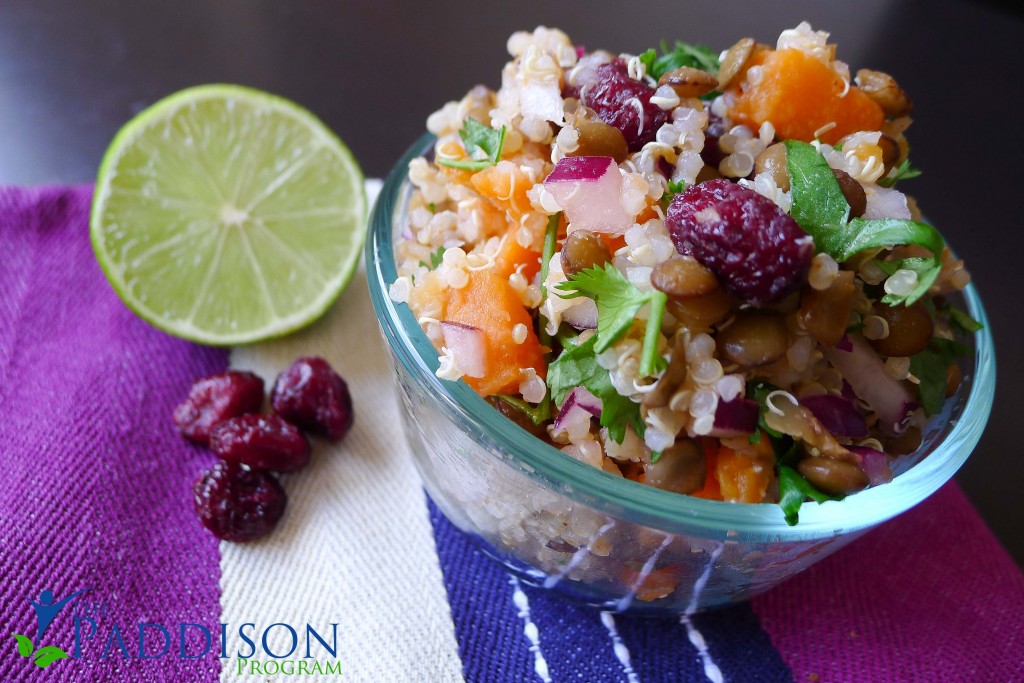 Power Cranberry Salad Benefits
This flavour-full Lentil and Quinoa Cranberry Salad recipe is filled with the tart goodness of cranberries, nutrient-dense sweet potatoes, aromatic cilantro/coriander, and a splash of alkalising zesty lime!
Lentil and Quinoa Cranberry Salad is a healthy powerhouse. Quinoa is a fabulous addition to your diet, not only because it is filling but it is also a complete protein.
It contains all 9 essential omega acids which help to keep your body healthy in many ways. Lentils will also help you to fill full, as they too, are a great source of protein and also packed with nutrients.
Lentils and Quinoa are also filled with calcium, iron, vitamin E, & several of the B vitamins to give you a boost throughout your day! Cranberries have a wonderful antioxidant effect and have many health benefits including being anti-inflammatory.
Cilantro or coriander also has health benefits such as aiding digestion. It 'exerts antioxidant activity' and protects the skin [1].
The Lentil and Quinoa Cranberry Salad recipe is packed with health benefits and full of flavour. It makes a great lunch. Pop it in the fridge for quick work and school lunches. It also makes a great salad to take on picnics and will look and will taste impressive when you have guests for lunch.
Salads Help Rheumatoid Arthritis Sufferers
Salad has been an important part of many rheumatoid arthritis patients treatment plans. One guest Ana spoke on the Rheumatoid Solutions podcast about taking salads out when you socialise with friends to have a safe meal option and help avoid the consumption of highly inflammatory restaurant oils.
The Lentil and Quinoa Cranberry Salad Recipe
Ingredients
1 cup rinsed and cooked brown lentils
A single cup of rinsed and cooked quinoa
1 large sweet potato, steamed and chopped
1 red onion, diced
1/2 cup dried cranberries
1 bunch coriander/cilantro
1 lime (or juice)
Chilli to taste
Sea Salt to taste
Preparation
Step 1
Rinse and cook the brown lentils and rinse and cook the quinoa. You can cook the quinoa in a rice cooker while the lentils are boiling. Allow cooling.
Step 2
Steam 1 large sweet potato. You can steam this above the quinoa in your steamer/rice cooker.
Step 3
Dice the onion, cilantro/coriander, and cooled sweet potato.
Step 4
Add the cooled lentils and quinoa to a large bowl. Add the diced ingredients, cranberries, juice of fresh lime, chilli, & sea salt to taste!
This vitamin-packed Lentil and Quinoa Cranberry Salad will serve 6. Enjoy this great Power Salad chilled.
Be well & eat well!
References
[1] Hwang E, Lee DG, Park SH, Oh MS, Kim SY. Coriander leaf extract exerts antioxidant activity and protects against UVB-induced photoaging of skin by regulation of procollagen type I and MMP-1 expression. J Med Food. 2014;17(9):985-995. doi:10.1089/jmf.2013.2999