An amazing power salad to pack some punch and protein into your day!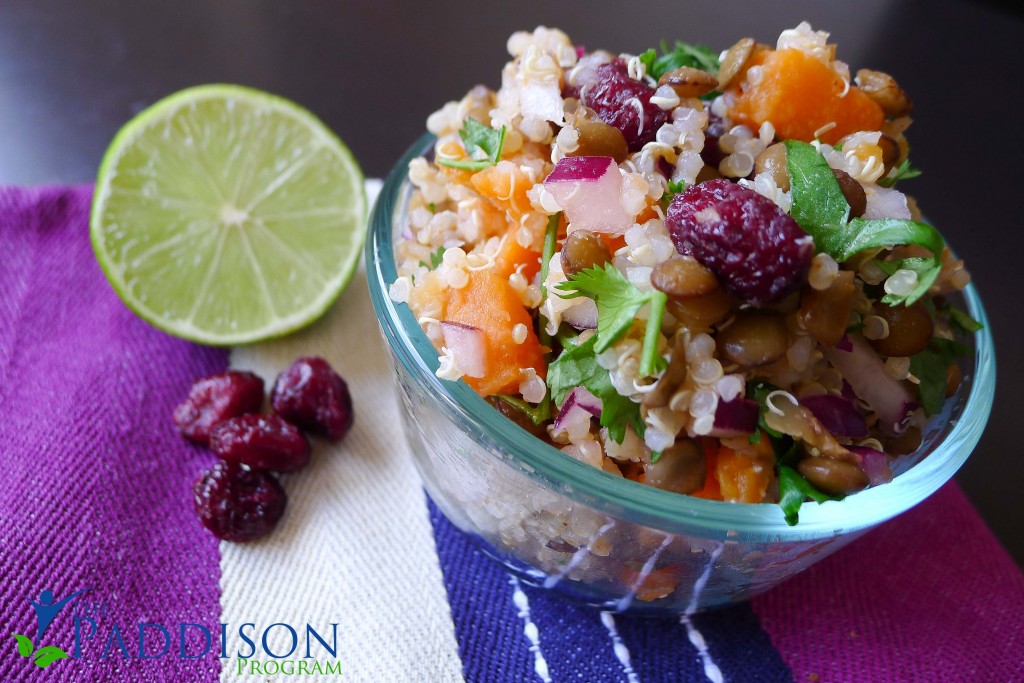 Lentils and Quinoa are filled with protein, calcium, iron, vitamin E, & several of the B vitamins to give you a boost throughout your day! This zesty salad is filled with the tart goodness of cranberries, nutrient dense sweet potatoes, digestive aiding cilantro, and a splash of alkaline lime! Need we say more? Prep this salad to pop in the fridge for quick access for school & work lunches or an afternoon picnic!
Approximately 6 servings of power
Ingredients
1 cup rinsed and cooked brown lentils
1 cup rinsed and cooked quinoa
1 large sweet potato, steamed and chopped
1 red onion, diced
1/2 cup dried cranberries
1 bunch coriander (aka – cilantro)
1 lime (juice)
Chili to taste
Sea Salt to taste
Directions
1) Rinse and cook brown lentils. Rinse and cook quinoa (suggest to cook in a rice cooker while lentils are boiling). Allow to cool.
2) Steam 1 large sweet potato (suggest to steam above quinoa in the rice cooker – how do you like that for multi-tasking?!)
3) Dice onion, cilantro, and cooled sweet potato
4) Add cooled lentils and quinoa to a large bowl. Add diced ingredients, cranberries, juice of fresh lime, chili, & sea salt to taste!
Enjoy chilled, Be well, & Eat well!