Looking for a quick, simple, and natural relief for rheumatoid arthritis? One of my simple tips is included in the recent Arthritis Matters Magazine…
As an Ambassador for Arthritis NSW, I was thrilled to be contributing a regular article to the magazine on my Natural Health Tips. A big part of my Rheumatoid Arthritis relief was incorporating daily green juices. A simple juice of celery and cucumber is alkalizing and provides anti inflammatory properties – essential for arthritis relief. The juice is also rich in enzymes which our body needs to restore and replenish. I hope you enjoy the article and begin to incorporate green juices into your daily nutrition! Note – the contents of the article are posted below it for easier reading. More tips like this in my free email training course.
Article Contents:
A simple and highly effective tip for natural arthritis relief is celery and cucumber juice. It's an absolute winner and great in Summer! Give this a go for a few days in between meals and you'll feel the difference.
Cucumber and celery juice contains vitamins A and C as well as minerals Calcium, iodine, iron, magnesium, phosphorous, potassium, silicon and sodium. The combination of these minerals makes the juice extremely alkalizing, and has anti-inflammatory properties – both highly beneficial for arthritis relief. Being rich in chlorophyll, it's also the best detoxifier and cleanser nature has to offer! If that wasn't enough, the juice is also rich in precious enzymes, which our bodies can become depleted of as we age. So this little green drink is a real superhero!
With even a basic juicer the pulp from these super green veggies is minimal so that the juice feels very 'light' and is easy to drink, like flavored water. It is mild and pleasant on the taste buds. I have a ton of clients who attest to the effectiveness of this juice for reliable relief and it has certainly been a staple for me over my long journey of recovery. I have used it as a fall back plan many times over the years for quick relief when used in higher quantities (3-4 glasses of juice in total per day, enjoyed between meals).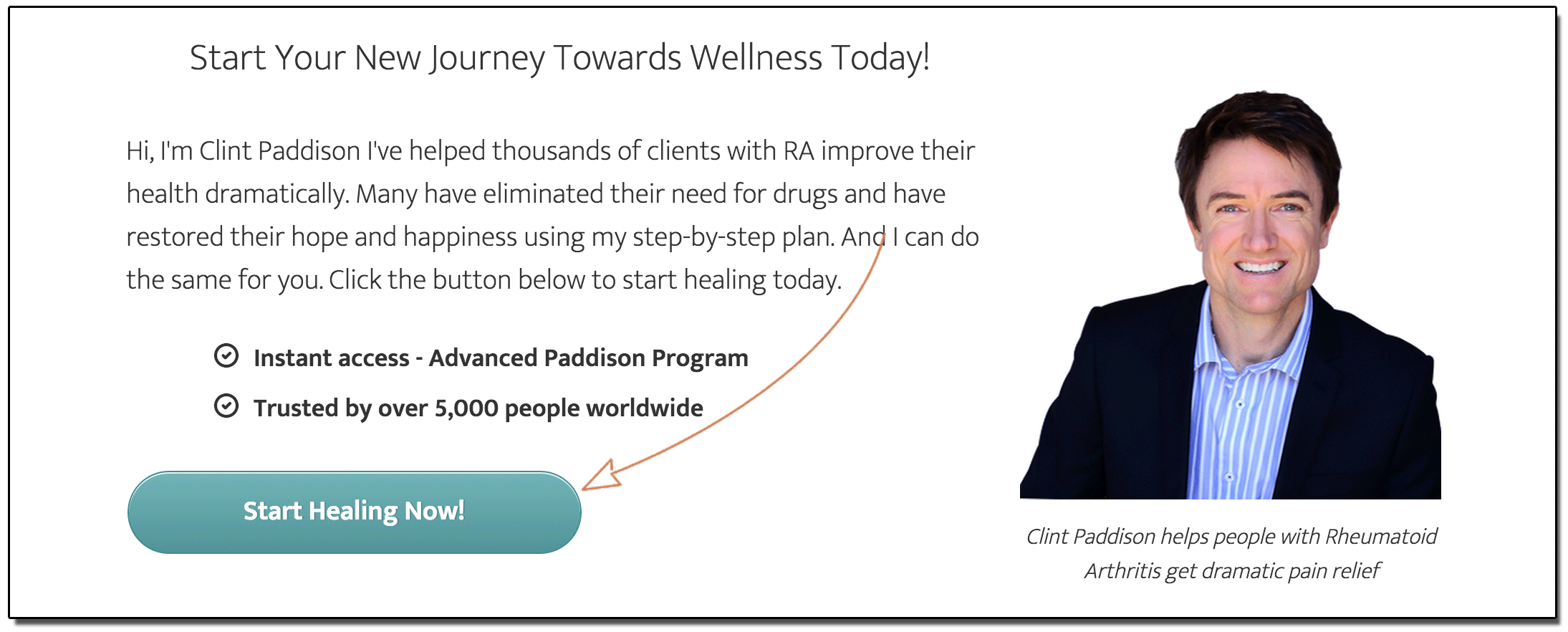 To make the juice, choose organic veggies if possible and select celery stalks that are firm and straight that show no signs of wilting. Wash both of the veggies and then peel the cucumbers (to remove the wax on the cucumber surface).
When away from home, you can also order this juice at juice bars like Boost Juice. They may want to add an apple to your juice for taste, which is fine, but the non-sugar basic version described here is best.
Finally, make sure you drink the fresh juice quickly (within 20 min) so that you don't lose the precious enzymes through oxidation.
Go wear your little green mustache with pride – you are taking a wonderful step towards optimal health.
Clint Paddison
Arthritis NSW Ambassador
Creator of the FREE email training course to reverse RA.
[thrive_split_button left_color="green" right_color="red" left_text="Pain Reduction" right_text="Lowering Drugs" left_link="https://www.paddisonprogram.com/chooser-pain/" right_link="https://www.paddisonprogram.com/chooser-medications/"]
Get Green with Your Celery & Cucumber Juice Today! 
Ingredients
1/2 bunch celery
2 cucumbers, peeled if not organic
Instructions
1) Wash all veggies. Try to use organic veggies when possible.
2) Peel cucumbers if not organic.
3) Place celery and cucumber through a juicer. Boom! Enjoy this alkalizing and anti-inflammatory green juice. If you are in need of arthritic relief, we recommend having 3 juices a day.