Vegan Lactation Cookies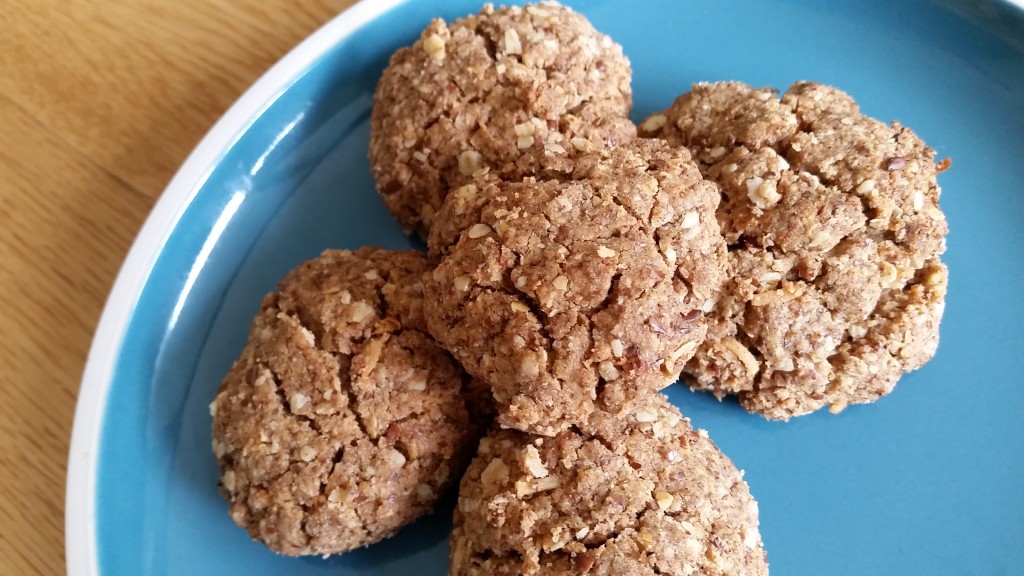 I love being a plant-based Momma. I also loved providing the all powerful and complete nutrition of breastfeeding to our little Angel.
Breastmilk is filled with all the vitamins and nutrients that is needed for the first 6 months of life. It is perfectly orchestrated by our body for our littles and is filled with disease fighting antibodies and immune support for our growing bubs. It powerfully sets up our little's digestive systems with healthy flora 'invisible ninjas of health' and creates a healthy gut that is established from infancy through adulthood. Personally, I believe this is paramount in setting up digestive health and a resilient immune system for the rest of our life. Beyond the nutritional benefits are the numerous benefits we receive with connecting skin to skin with our babies. This connection and time spent whilst feeding, gives an emotional connection that only we can experience with our littles.
A great way to naturally enhance your supply, increase your supply, or simply maintain your supply, is to make wholesome, healthy and nourishing vegan lactation cookies.
A few of the natural key ingredients for boosting milk supply are:
Oatmeal
Flax seed
Brewer's yeast
I would recommend having about 1-2 lactation cookies daily whilst breastfeeding. I would often see the result by the evening and notice a fuller feeding time and often some leakage! 🙂
Tip: These are powerhouse cookies filled with lots of goodies for the body. I would recommend making a few batches ahead of time prior the arrival of your bundle of joy. Simply roll out the cookie dough and place in a freezable container. Freeze and bake when needed. Simply add a few more minutes to the baking time. I loved loved loved having these on hand and would often bake a few at a time, so I had them fresh in the house.
Vegan Lactation Cookie Recipe
Dry Items:
1 1/2 cups flour (your choice of flour)
1 1/2 cups rolled oats
4 tablespoons brewer's yeast
1/4 cup shredded coconut
1 cup ground flax seeds (can grind whole flax seeds fresh in a processor or coffee grinder)
1 tsp baking powder
1 tsp baking soda
1 pinch celtic sea salt
Pinch of cinnamon and nutmeg
Wet Items:
1 cup nut butter (almond butter, peanut butter, or delicious Manna Butter)
1/2 cup coconut oil
1 cup dairy free milk (soy milk, almond milk, or coconut milk)
3/4 cup brown sugar or your choice of sweetner *optional*
2 tsp vanilla extract
2 tsp egg replacer (I like ener-g egg replacer)
1 cup optional fillings: sesame seeds, sunflower seeds, chia seeds, chopped almonds or macadamias, cacao nibs
Prepare Lovingly:
1) Preheat oven to 350 F
2) Add and mix dry items together in a large bowl and set aside. Add and mix wet items together in a bowl. You may need to melt the coconut oil on the stovetop to have it in liquid form (which is ideal for mixing the batter). Save the optional fillings to add once the dry and wet have been combined.
3) Add the wet mixture to the dry mixture and stir. I like to start out with stirring with a wooden spoon and then gently fold and knead the batter with my hands. If you have any optional ingredients like chopped nuts or seeds to add to the batter, add them in now.
4) Roll batter into small balls and place on a cookie sheet. Bake until you get that sweet smell of cookies 🙂 about 15 min, or until slightly golden on top or underneath.
I hope you enjoy these nutritious cookies for you and your sweet bub!
PS – I used to love packing a few of these vegan lactation cookies and a bottle of water to bring with me when I would push Angelina in her stroller for long walks. Healthy snack – tick! And… the benefit of boosting my milk supply!