Roasted Pumpkin, Super Grains, and Kale, Vegan Recipe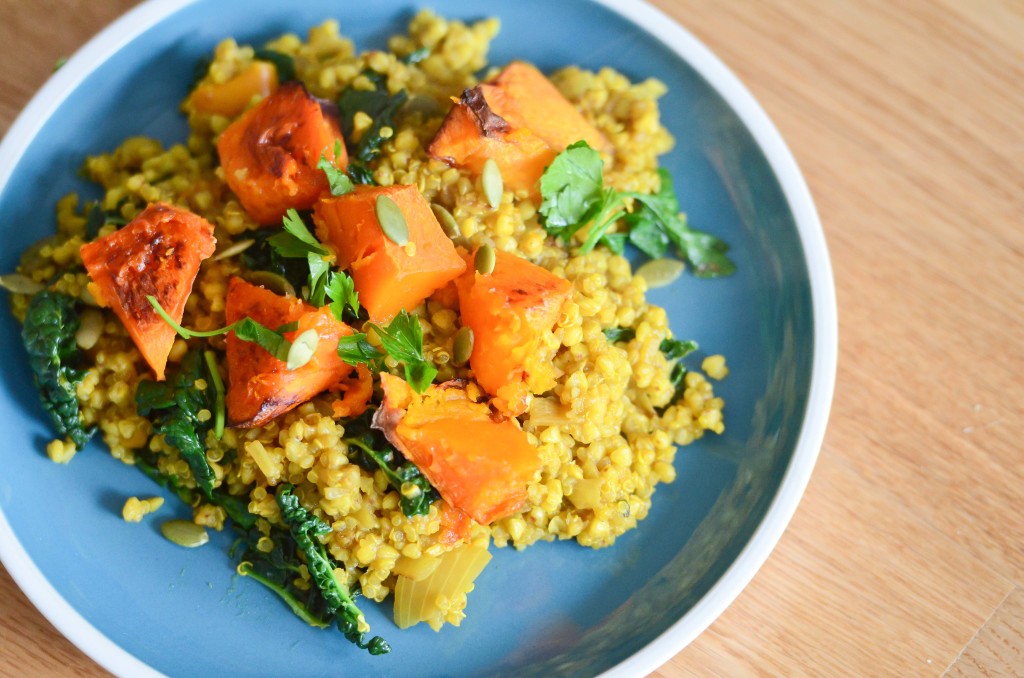 Total plant-based fuel to nourish the body! A great recipe to have for lunch or dinner. It's fantastic to bring as a warm salad to a get together with family and friends.
I love this combination of super grains (quinoa and buckwheat) for high quality protein that is easily digested. There are so many benefits of eating super grains and we like to incorporate them on a regular basis.  Check out why buckwheat is a super grain here.
Toss in roasted pumpkin and pumpkin seeds for loads of dietary fiber, rich in anti oxidants, vitamin A, C, and E, and a good source of B complex vitamins, including folate.
The green of choice for this dish is kale, which packs in calcium, iron, and fiber (and that's just the tip of the iceberg!)
Ingredients
1/2 cup quinoa (rinsed)
1/2 cup buckwheat (rinsed)
1 – 2 cups pumpkin, chopped – option to swap out the pumpkin for sweet potato (whatever you have on hand!)
1 onion, minced
4 garlic cloves, minced
1 orange pepper, minced
1 tsp ground coriander
1 tsp turmeric
1/2 tsp chili powder
1/2 cup dinosaur kale, (shredded) – option to throw in your favorite super greens like spinach or silver beet
1/4 cup fresh parsley, chopped
handful of pumpkin seeds
Sea Salt & freshly cracked pepper to taste
Instructions
1. Preheat oven to 350F. Add chopped pumpkin to a baking sheet and place in oven. Optional to drizzle a small amount of coconut oil for roasting. Bake for approx 30min or until tender.
2. Add chopped onion, garlic, pepper, and spices to pot. Saute in a small amount of water for approx 2 min. Add rinsed quinoa and buckwheat.
3. Add approx 1 1/2 cups water and bring to a gentle boil. Cover and simmer until water is completely absorbed. Approx 15 min. Remove from heat.
4. While the super grains are cooking, shred kale leaves and remove the stems. Sprinkle with sea salt and squeeze kale leaves in your hands. Set aside. Oncer super grains are cooked, add shredded kale and stir until it is slightly wilted.
5. Plate up the super grains and top with roasted pumpkin, pumpkin seeds, freshly chopped parsley, and sea salt to taste!
Serve with a green salad.
Enjoy this super grain meal and I hope it nourishes and fuels your body to thrive!
p.s. ~ this is a fantastic dish to have stocked on hand in the fridge for a quick snack or to bring to work for lunch!