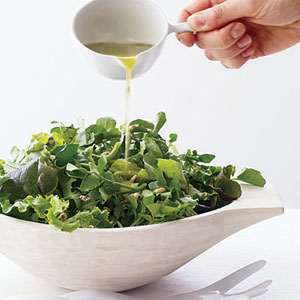 This exciting selection of no oil salad dressings will dress up your salads with extra zing, flavor, and incredible goodness.
Dressings can help give your salad an extra kick and enhance the freshness and flavors of any salad.
For many people with autoimmune conditions, oils cause inflammation [1] so this selection of no oil salad dressings are helpful.
It is a good idea to stock the kitchen with a few vital essential seasonings and herbs to always have something on hand to create a fresh no oil salad dressing. Great options are fresh cilantro/coriander, dill, mint, and basil.
Other items to keep in stock are apple cider vinegar, brown rice vinegar, and fresh lemons on hand to make quick and simple dressings.
These no oil salad dressings are worth the extra few steps in the kitchen. They will aid your digestion and are very tasty. It is great to have freshly prepared salad dressings readily available to complement nourishing foods in salads.
Next time you are at the store, try to avoid the temptation of the dressing aisle and try preparing your salad dressings to add some wholesome wellness to your greens.
Jackie Discovers the Problem with Salad Dressings
One member of the Paddison Program, Jackie, thought that she had always eaten healthily when she was diagnosed with rheumatoid arthritis. However, when she looked through the advice and notes provided by the program, she realized how unhealthy shop-bought salad dressings can be. For more about Jackie, you can see her story of reversing RA symptoms.
No Oil Salad Dressings
No Oil Sesame Dressing Ingredients
1 tbsp sesame seeds
2 tbsp tahini (sesame paste)
2 tbsp Tamari sauce
1 tbsp brown sugar
2 tbsp brown rice vinegar
No Oil Asian Orange Vinaigrette Ingredients
One large Orange
2 tsp brown rice vinegar
One clove chopped garlic
1 cm fresh ginger, minced
1 tsp raw honey
One pinch of sea salt
No Oil Lemon Vinaigrette Ingredients
One lemon, squeezed
2 tsp Italian herbs
1 tsp apple cider vinegar
One pinch of sea salt
No Oil Dijon Dressing Ingredients
1 tsp Dijon mustard
2 tsp brown rice vinegar
One Garlic clove, chopped
1 tsp brown sugar
Tahini Herb Dressing Ingredients
3 tbsp tahini
1/4 cup water
1/2 cup fresh herbs, minced (dill, cilantro, basil)
One clove of garlic, minced
1/2 freshly squeezed lemon
Pinch of sea salt
Miso Dressing Ingredients
2 tbs brown rice miso paste
1 cm fresh ginger, minced
1/2 cup water
1 tsp Tamari
1 tsp fresh lemon juice
One green onion, sliced
Directions for No Oil Salad Dressings
Step 1
Choose your dressing.
Step 2
Add the ingredients to a bowl and whisk.
Step 3
Drizzle over your favorite salad.
Enjoy trying out these exciting no oil salad dressings. If you're looking for a great salad to try, then you can try the Summer Salad or the Cranberry Salad.
[1] Linos A, Kaklamani VG, Kaklamani E, Koumantaki Y, Giziaki E, Papazoglou S, Mantzoros CS. Dietary factors in relation to rheumatoid arthritis: a role for olive oil and cooked vegetables? Am J Clin Nutr. 1999 Dec;70(6):1077-82. doi: 10.1093/ajcn/70.6.1077. Erratum in: Am J Clin Nutr 2000 Apr;71(4):1010. PMID: 10584053.